I was checking out Michelle's blog and found "If I had $100 To Spend On ETSY things". The linkup is hosted by Allyce twice a month. If you've been somewhere else and don't know what ETSY is, well it's a place of awesomeness! It's a market place of handmade things. ETSY helps small business' & individuals that love making their handmade items.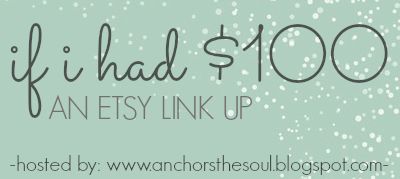 I love shopping on etsy because it's helping a small business or an individual. These items range from clothing, crotched scarfs, jewelry, & I buy soaps & candles for my family members. My skin is too sensitive to use any handmade soaps or a lot of soaps for that matter. If I had $100 this month to spend, this is what'd I pick up.
ONE.
STYLE TIP ONLY Buddha Mala Bracelet Yoga Jewelry Meditation Agate Spiritual Healing
I love this bracelet! I really like handmade jewelry because it's so unique. I also love anything colorful.
TWO.
Terracotta serving bowl
Hello fruity pebbles bowl! This bowl reminds me of confetti cake, which I love!
THREE.
Custom Circle Business Stamp / Packaging Stamp – Cling Rubber Stamp – Elegant Cursive Font
I could use this stamp for custom business cards. I hand out blog cards from time to time.
FOUR.
Avett Brothers- Head Full of Doubt/Road Full of Promise (8×10 print)
I'd place it right over my desk. What a better place for it to be?
I think I did pretty good! I usually don't hVe money left over, regardless of hypothetical money or not. I absolutely love all of these pieces I've picked.
TOTAL: $97.75